When: Monday, February, 18
Where: Wibautstraat 200, Amsterdam
Schedule
18:00 Doors open, food is served, have a chat
18:45 Talk 1: Going from 0 to pretty, real quick
19:30 Talk 2: Declarative data fetching with React Async
20:15 Networking time, have a beer

Going from 0 to pretty, real quick – Matthisk Heimensen
The future of e-commerce is found in rapidly improving user experiences. While off-the-shelf software for powering e-commerce is in constant pace of development, these platforms hinder the flexibility during development by design; locking-in the developers in the tools and frameworks they provide.

To deliver a platform for the future, Xebia helped The Sting with an incremental re-build and roll-out of a tailor-made e-commerce environment. During this talk we will show how "House of Brands" has built a platform for the future, which enables rapid development of new functionality, easily scaling over multiple brand sites (The Sting, Costes) and reducing the operational costs in the process.

Declarative data fetching with React Async – Gert Hengeveld
Web applications have to deal with a lot of asynchronous operations. Loading and updating data is something you have to do over and over again. The common place to perform data fetching in a React component is in a lifecycle method. Just run fetch and use setState to store the result. This is simple enough (and very effective) but leaves a lot to be desired. React Async is built to deal with this local asynchronous state. It handles (native) promise resolution, enhances it with metadata and deals with the intricacies you wouldn't normally think about, such as cancelling the fetch request when appropriate.

Gert is the author of React Async. By live coding it from the ground up, he will show the reasoning behind the library and do a comparison between the original render props-based component and the recently released useAsync hook.
Matthisk Heimensen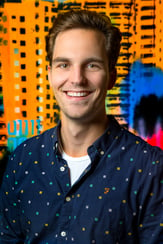 The Sting
The Sting Companies is a Dutch concern with chains of clothing stores. The current store formulas are THE STING, Costes, Cotton Club and Distrikt Nørrebro. The multinational has stores in the Netherlands, Belgium and Germany.