When: May 14th, 2020
Where: London, UK
Are we happy? The relation between adopting DevOps and employee satisfaction rates
When adopting DevOps principles jobs are changing, some people gain more freedom and responsibility where other can feel more restraint. During his talk, Niek van Raaij will combine scientific insights with his hands-on experience as a DevOps Consultant to show how to keep employees happy during an DevOps transformation.
---
Niek van Raaij - DevOps & SRE Consultant @ Xebia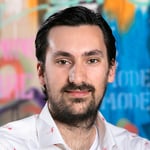 Niek is a passionate DevOps consultant with an entrepreneurial mindset who specializes in IT operations and DevOps.
He is a strong advocate of the principle "practice as you preach" by combining coaching and consulting skills with hands-on technical experience.