When: March 19-21, 2019
Where: Vilnius, Lithuania
A Practical Path towards Becoming a High Performance (IT) Organization
A lot has been said about DevOps. Many surveys circulate and conclude that properly adopting DevOps principles helps companies to (drastically) lower product lead times, lead to a steep reduction in the number of outages and will speed up the mean time required to recover from failure and so on.
But how to get you there? How to actually adopt the set of required practices, behaviors and tools inside your own organization? A radical transformation that will have an impact on every single aspect of your company, wow .. this is huge! No wonder many organizations get stuck in the definition phase in implement DevOps by wording only.
The key to success here is to start small and apply synchronicity in your approach. Learn from Michiel's vast experience as a DevOps Consultant and get tangible handles to help you achieve your objectives in your quest to becoming a High Performance IT Organization.
Michiel Sens - DevOps Consultant @ Xebia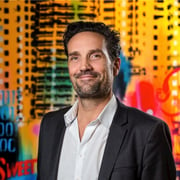 Michiel has worked in the IT Industry for over 20 years, started off as Java Developer and currently works as a Principal DevOps Consultant / Solution Architect at Xebia in The Netherlands and is co-writer of the book "Continuous Delivery for Managers". Michiel specializes in DevOps, Continuous Delivery and full lifecycle software development programs. Being technical at heart, he advocates the use of Continuous Delivery and DevOps practices at seminars and meetups but remains in touch with details by performing actual implementations at customer sites as well. Aside from being an automator, Michiel is Master trainer and one of the main content providers for the DevOps Agile Skills Association (DASA) fundamentals training.

Follow Michiel