Working in IT Architecture, you are given the task of "turning business needs into (IT) solutions". While this task sounds rather abstract, there are many concrete questions to be addressed:
How can we define precise business needs?
How can we align different stakeholders' views and ideas?
What is the impact on the existing organization, processes, information systems and technology?
---
Solution Architecture brings clarity and orientation to this process. You work towards a solution that is the best fit. Along the way, you have to monitor who has to be involved in the process, which decisions have to be made at what step and how the solution can finally be implemented.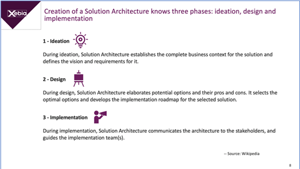 This process can take very long, resulting in dissatisfaction and disturbing the relation between business stakeholders and IT. Luckily, Solution Architecture can be streamlined in an efficient manner.
---
If you want to turn your business needs into solutions faster, this workshop is for you. Especially, if:
The implementation of simple business requirements takes too long
You keep on missing stakeholders, functionality and requirements
You face problems with splitting up, assigning and coordinating the work
Costs get out of hand due to unexpected work
In this one-day workshop, you will learn how Solution Architectures help you to come up with solutions that work, and how you can implement them in your organization.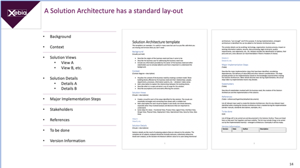 You will receive a head start with working directly on your first own Solution Architecture during real-life hands-on exercises. We will also create a tailor-made Solution Architecture template you can take with you and share within your organization.
---
Architects of IT Transformation
Our Solution Architects have a lot of field experience and share being technical at heart. They already have successfully implemented Modern IT Architecture within different organizations, so you can lift your expertise with their knowledge and tactics.
These workshops are part of Xebia's Modern IT Architecture portfolio.