Join Rupesh Roy for a Live session on Why Code the SOLID way?
Date: Wednesday, 24 January 2018
Time: 3 pm - 4 pm IST
Who should attend: Software development and maintenance team members
By joining this webinar, you will learn:
How coding practices can make a difference to the overall cost of a product
Why it is important to follow SOLID principles in Object Oriented designs
How SOLID principles helps to produce a durable product
Speaker Profile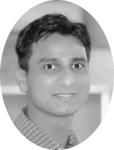 Rupesh is a Microsoft Certified Professional in Developing Azure Solutions, currently working as a Consultant for Microsoft Technologies with Xebia. He has guided many organisations and individuals follow SOLID principles with and intend to make software designs more understandable, flexible and maintainable.