Are you managing a team that needs to make the next step? Are you a scrum master that wants to help the team by having team members providing feedback to eachother? Are you someone in a team who thinks your team needs to break through invisible barriers?
Then play the WeQ Feedback Game during our workshop! Team members provide feedback to each other in a gamified and safe setting for half a day. The game is supported by a mobile app and provides a collective intelligence baseline up-front, a graphic visualization of the results, and can track improvements. The game system also provides insights into team strengths and weaknesses.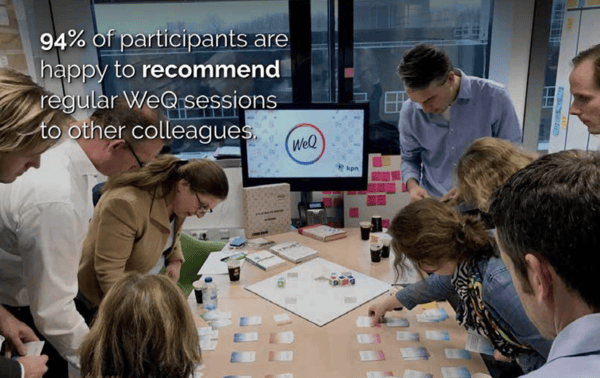 Is WeQ Feedback Game the right workshop for me?
Yes – if you or your team(s) are struggling and growth is stalling
Yes – if you just started as a team and want to become more productive
Yes – if your team(s) smells bad and high performance seems somewhere in utopia.
Yes – this is not only for agile/scrum teams. It is for all teams regardless of branch or industry.
What will we achieve by completing this workshop?
Key outcomes:
Fixing dysfunctional teams
Prevent small problems from becoming big
Enhance productivity
Promote diversity
Remove information-sharing barriers
Boost team engagement
What else should I know?
There are no prerequisites for this workshop.
Contact
If you are interested in joining this workshop with your team(s) please leave your details behind. We will connect with you as soon as possible.


Xebia – Future fit people & organizations through Agility