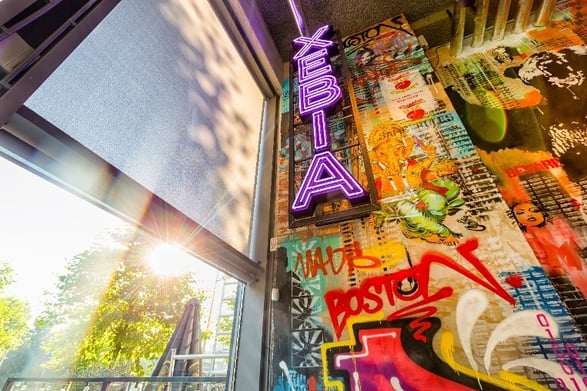 What are we looking for in you?

Company Overview:

Xebia is a global IT Consulting and digital business transformation company that was founded in 2001. We are the most chosen IT Services company when it comes to Digital Transformation.

With over 2 decades of experience, Xebia holds expertise in getting ahead of the curve and aligning our client's efforts to make them digital leaders so that they can outperform their traditional competition regardless of their industry and domain. We steer our customers towards their goal of accelerating their business, innovation, revenue generation and help them stay competitive. Also, to get the maximum value out of the opportunities of every wave, e.g. introducing new tech-driven business models, propositions, and distribution models.
Role overview:

The position will be responsible for the entire region covering the growth, delivery of services, programs, projects, COE initiatives, Talent fulfilment, and Customer units with revenues of 20 Million + USD and leading a Technology services & practice team strength of over 400+.
Location- Gurgaon

Roles & Responsibilities:
- The role will require the candidate to provide leadership to the regional leaders like Delivery managers / Operations team in running the delivery and operations with an aim to meet and excel the customer needs and drive growth

- Has to work closely & collaborate with other region heads / CTO / CDO/ COE / Sales / Pre Sales to grow the business.

- Has to provide leadership to a dedicated talent acquisition team for all tactical and strategical needs for the region.

- Build the foundation for all development and conceptualize different service offerings & solutions to customers.

- Take ownership of all key performance parameters to drive the operating margin of the accounts along with the overall region.

- Design and implement frameworks for performance optimization, scalability, security, reusability for delivery excellence, and customer delight

- Introduce best practices in software development, agile methodologies, and coding standards; institute change when necessary and appropriate

- Responsible for establishing operating procedures, work assignments, planning, and all project management activities across the region

Qualification, Skills & ExperienceOverall 20+ experience in the industry with a minimum of 10 years+ of experience covering Account Management or delivery management for a set of accounts ( > 400 people)
The candidate is expected to have the following skills/experience:
- Experience at the customer site as onsite CEM / Account manager or experience as Sales Head
- Experience in managing multiple customers across geographies
- Fixed Price project management, with SLA based delivery
- Staff Augmentation project management, with ownership of fulfilment
- Multi-vendor / SI Program management experience
- Experience in handling large teams in India (should have handled large enterprise accounts or multiple small and medium-sized accounts)
- Well-versed with quality management processes
- Pre-sales exposure
- Any leadership initiatives assumed Corporate level or at any SBU/vertical/functional level, with a proven success
- Good Networking across the Industry
- Proven people leadership
- Outstanding communication skills, both oral and written, and both technical and non-technical, and the ability to work with a diverse group of individuals in a professional and service-oriented manner
Our culture
We thrive for authority. This can only be achieved by working with the best people, offering them the most challenging projects and create a continuous learning environment.
All this is in place so you can accelerate your career.
What can you expect?
Inspiring working environment
The most challenging assignments
Trust
Freedom to accelerate
Much more!
About Us
Xebia is a Dutch headquartered IT company which specializes in Continuous Delivery & DevOps, Full Stack Agile Development, Agile Consulting & Transformation, Big Data/Data Science, Mobile, Cloudification and Data Centre Automation. With core software development offices in Netherlands(Amsterdam, Hilversum), India(Delhi NCR, Bangalore, Pune), UK (London), UAE (Dubai) and U.S.(Atlanta) we employ over 1100 people worldwide!

Atlanta is our software development hub and we are looking for smart, consultative, hands-on software developers to be a part of our exclusive team.
Xebia explores and creates new frontiers in IT. We provide innovative products and services and strive to stay one step ahead of our customers' needs. We turn new technology trends into business advantages. As mainstream front-runners, we create new IT solutions and build the future with our customers.
Passion for in depth technology & software craftsmanship in combination with Lean, Agile and Scrum practices are Xebia's driving factors and competitive edge. True knowledge workers find Xebia to be an inspiring place to work where they are challenged by peers.
What's next?
At Xebia you find like-minded colleagues who are forerunners in their field, are used to get customer organizations moving and have the courage to leave the beaten track. By sharing knowledge with customers and communities, we constantly broaden our expertise and decide what the next cool thing is to work on.
We challenge you to accelerate your personal development. Curious? We like to tell you more or invite you to one of our events!

Curious to find out more?
You are welcome to get to know us. Get in touch with Mandhir Dhingra : mdhingra@xebia.com