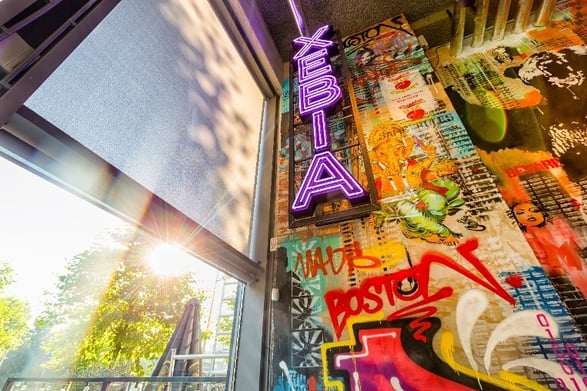 What we look for in you?
More than 4 years of experience in software services selling to organizations of all sizes
A technology background and understand the nitty-gritty of latest technology stack
The skill, stature and personality that interests Clients to seek your help to build their business

Exceptional v

erbal, written and presentation skills
You can get it done in Keynote and when you present, people listen. Maybe they even applaud when you're done
You've never turned down a happy hour or an opportunity to network
A strategic, confident decision-maker with a proven track record of maintaining and growing accounts of all sizes
Have been working in the digital space for at least 5 years, and have managed multi-million-dollar accounts
Able to collaborate effectively with clients, co-workers, and vendors alike
Location: San Francisco
Key Responsibility:
Acquiring new profitable customers aligned to our capabilities and growth plans
Deliver sales revenues with agreed profitability

Build long term relationships with key contacts at target customers
Maximize existing relationships by engaging clients as their primary touch point within Xebia
Work with Client to obtain qualified job requirements and educate Client on Xebia's technology service offerings and process
Proactively create opportunities to support our COEs and alliance partners to maximise business and deliver incremental value to customers
Promote Client development and build relationships with prospective Clients through office visits, presentations and negotiations.
Proactively identify client risks or opportunities and help manage the project team to effectively respond
Utilize strategic client hunting practices, industry/market analysis, internal communication, external promotions and constant in-depth client analysis to uncover revenue opportunities
Establish opportunities to present our value-proposition to strategic Senior Executive and Management level contacts
Responsible for increasing the number of qualified hiring contacts in database
Interface with internal teams to ensure all lines of business within Xebia are effectively represented to our customer base.
Update and maintain Client information in accordance to Xebia's standards
Track vendor agreements and complete accurate invoicing information.
Identify potential opportunities with companies through research, referrals, networking and cold calling.
Initiate relationships with prospective clients by researching jobs and organizations and connecting with key stakeholders.
Present information related to recruiting and staffing services and utilize business development strategies to capitalize on new opportunities and drive growth.
Advocate for both our client and our team – and know how to balance the two
Meet or exceed monthly goal expectations
Valid US work visa
Our culture
We thrive for authority. This can only be achieved by working with the best people, offering them the most challenging projects and create a continuous learning environment.
All this is in place so you can accelerate your career.


What can you expect?
Inspiring working environment
Freedom to accelerate
Trust
Much more!


About Us
Xebia is a Dutch headquartered IT company which specializes in Continuous Delivery & DevOps, Full Stack Agile Development, Agile Consulting & Transformation, Big Data/Data Science, Mobile, Cloudification and Data Centre Automation. With core software development offices in Netherlands (Amsterdam, Hilversum), India (Delhi NCR, Bangalore, Pune), France (Paris) and U.S.(Boston, Atlanta) we employ over 1100 people worldwide!

Xebia Group consists of seven specialized companies: Xebia Software Development, Xebia Academy, Xpirit, XebiaLabs, Stackstate, GoDataDriven and binx.io

XebiaLabs, spun-off from Xebia group in 2009 in Boston in US. XebiaLabs offers the next generation standard Deployment and Release Automation solutions (XL Deploy and XL Release) XebiaLabs has been rated as "Cool Vendor" by Gartner.

GoDataDriven, another spin off from Xebia is a leading Big Data consultancy. The company is strategic partner of Cloudera, 10gen, Horton Works and DataStax and offers training for MongoDB, Hadoop and Cassandra. They also offer a new generation recommendation engine called as "Divolte" based on open source technology and brings personalization to your platform"

Atlanta is our next software development hub and we are looking for smart, consultative, hands-on professionals to be a part of our exclusive team.

Xebia explores and creates new frontiers in IT. We provide innovative products and services and strive to stay one step ahead of our customers' needs. We turn new technology trends into business advantages. As mainstream frontrunners, we create new IT solutions and build the future with our customers.

Passion for in depth technology & software craftsmanship in combination with Lean, Agile and Scrum practices are Xebia's driving factors and competitive edge. True knowledge workers find Xebia to be an inspiring place to work where they are challenged by peers.
What's next?
At Xebia you find like-minded colleagues who are forerunners in their field, are used to get customer organizations moving and have the courage to leave the beaten track. By sharing knowledge with customers and communities, we constantly broaden our expertise and decide what the next cool thing is to work on.
We challenge you to accelerate your personal development. Curious? We like to tell you more or invite you to one of our events!

Curious to find out more?
You are welcome to get to know us. Get in touch with Mandhir Dhingra:
mdhingra@xebia.com