What is exciting about the role?
The Front End developer is responsible for transforming the design and the product vision into working products and will directly influence how users will interact with the system. The Front End developer works hard to stay on top of fast changing technology and invests a lot of energy in learning new tricks. They are not only caught up on industry trends in client development frameworks but also know what the near future will bring. A love for clean interfaces and a passion for great user experiences goes without saying.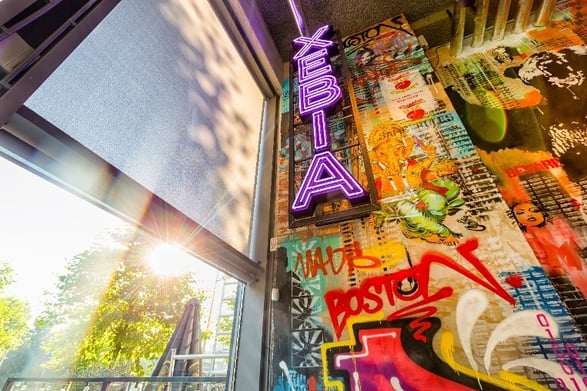 What we look for in you?
Overall 4-7 years of experience in web applications development
Good experience in client-side web development (HTML5, CSS, JavaScript, JSON, XML...etc.)
1-2 years very strong experience in React.js (Preferable 16+)
Strong experience with Data management, including APIs, REST, JSON, GraphQL, PostgreSQL
Experience with popular React.js workflows (such as Flux, Redux, Apollo, Immutable, LoDash)
Knowledge of modern authorization mechanisms, such as JSON Web Token
Experience with test-driven development (TDD)
Experience in Agile (Scrum/Kanban), UML and DevOps (CI/CD) with Azure
Familiarity with newer specifications of ECMAScript
Experience in developing banking apps
Should be able to understand and implement Sketch Designs
Ability to write effective unit, integration, and end-user automation tests
Strong understanding of Agile methodologies
Experience as a Developer on a cross-functional agile team preferred
Strong communication skills with ability to communicate complex technical concepts and align organization on decisions
Sound problem-solving skills with the ability to quickly process complex information and present it clearly and simply
Utilizes team collaboration to create innovative solutions efficiently
Passionate about technology and excited about the impact of emerging /disruptive technologies
Wants to unleash inner self-starter and work in an environment that fosters
entrepreneurial minds
Believes in culture of transparency and trust
Location: Dubai
Key Result Areas:
Build applications according to the design and provide designers with feedback and suggest trade-offs when required
Ensure the code follows latest coding practices and industry standards
Work closely with backend developers to understand and properly use the systems APIs
Write both unit and integration tests, and develop automation tools for daily tasks
Challenge ideas and opinions to avoid pitfalls and inefficient solutions
Other Desirable:
Writing white papers, blogging and participation in Java related events and conferences are a definitive plus
Experience of working in Agile environments using Scrum/XP
Individual contributor with excellent analytical skills and ability to think out of box (experience with requirements gathering/engineering are an advantage)
Customer focused is a definite desirable
Team player with demonstrated ability to collaborate with developers and other stakeholders.
Academic Qualification
Engineering Degree / Engineering PG in Computer Science from an Institution of high repute in India or abroad. high performer in academics
Our culture
We thrive for authority. This can only be achieved by working with the best people, offering them the most challenging projects and create a continuous learning environment.
All this is in place so you can accelerate your career.
What can you expect?
Inspiring working environment
The most challenging assignments
Trust
Freedom to accelerate
Much more!
What's next?
At Xebia you find like-minded colleagues who are forerunners in their field, are used to get customer organizations moving and have the courage to leave the beaten track. By sharing knowledge with customers and communities, we constantly broaden our expertise and decide what the next cool thing is to work on.
We challenge you to accelerate your personal development. Curious? We like to tell you more or invite you to one of our events!
About Us
Xebia is a Dutch headquartered IT company which specializes in Continuous Delivery & DevOps, Full Stack Agile Development, Agile Consulting & Transformation, Big Data/Data Science, Mobile, Cloudification and Data Centre Automation. With core software development offices in Netherlands (Amsterdam, Hilversum), India (Delhi NCR, Pune and Bangalore), France(Paris) and U.S.(Boston and Atlanta) we employ over 1200 people worldwide!
We are looking for smart, consultative, hands-on software developers to be a part of our exclusive team.
Xebia explores and creates new frontiers in IT. We provide innovative products and services and strive to stay one step ahead of our customers' needs. We turn new technology trends into business advantages. As mainstream frontrunners, we create new IT solutions and build the future with our customers.

Passion for in depth technology & software craftsmanship in combination with Lean, Agile and Scrum practices are Xebia's driving factors and competitive edge. True knowledge workers find Xebia to be an inspiring place to work where they are challenged by peers.
Curious to find out more?
You are welcome to get to know us. Get in touch with Sarmista: sarmista@xebia.com