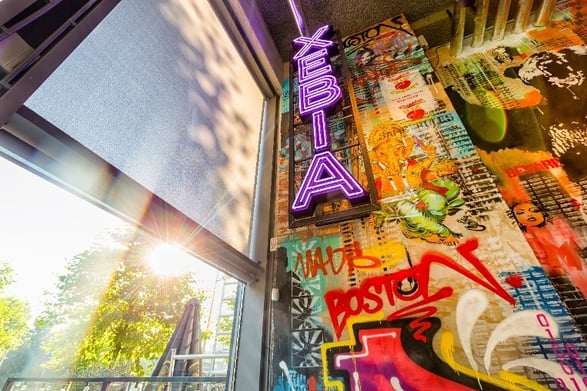 Company Overview:
Xebia is a global IT Consulting and digital business transformation company that was founded in 2001. We are the most chosen IT Services company when it comes to Digital Transformation.
With over 2 decades of experience, Xebia holds expertise in getting ahead of the curve and aligning our client's efforts to make them digital leaders so that they can outperform their traditional competition regardless of their industry and domain. We steer our customers towards their goal of accelerating their business, innovation, revenue generation and help them stay competitive. Also, to get the maximum value out of the opportunities of every wave, e.g. introducing new tech-driven business models, propositions, and distribution models.
Our culture
We thrive for authority. This can only be achieved by working with the best people, offering them the most challenging projects and create a continuous learning environment.
All this is in place so you can accelerate your career.
What can you expect?
Inspiring working environment
The most challenging assignments
Trust
Freedom to accelerate
Much more!
About Us
Xebia is a Dutch headquartered IT company which specializes in Continuous Delivery & DevOps, Full Stack Agile Development, Agile Consulting & Transformation, Big Data/Data Science, Mobile, Cloudification and Data Centre Automation. With core software development offices in Netherlands(Amsterdam, Hilversum), India(Delhi NCR, Bangalore, Pune), UK (London), UAE (Dubai) and U.S.(Atlanta) we employ over 1100 people worldwide!

Atlanta is our software development hub and we are looking for smart, consultative, hands-on software developers to be a part of our exclusive team.
Xebia explores and creates new frontiers in IT. We provide innovative products and services and strive to stay one step ahead of our customers' needs. We turn new technology trends into business advantages. As mainstream front-runners, we create new IT solutions and build the future with our customers.
Passion for in depth technology & software craftsmanship in combination with Lean, Agile and Scrum practices are Xebia's driving factors and competitive edge. True knowledge workers find Xebia to be an inspiring place to work where they are challenged by peers.
What's next?
At Xebia you find like-minded colleagues who are forerunners in their field, are used to get customer organizations moving and have the courage to leave the beaten track. By sharing knowledge with customers and communities, we constantly broaden our expertise and decide what the next cool thing is to work on.
We challenge you to accelerate your personal development. Curious? We like to tell you more or invite you to one of our events!

Curious to find out more?
You are welcome to get to know us. Get in touch with us