Scaling Agile
Scaling Agile is a hot topic nowadays. How do I create a scaled Agile company? What roles are important? What is the new way of working? How does it impact on management? How are we going to deliver value? Should I completely redesign my organization? Lots of challenges ahead! The main challenge though: reduce complexity in your current organization by Scaling Agile. Sounds strange doesn't it?
Why should you watch this webinar?
In this webinar we will tell you about the design principles that provide clues for the answers to these questions. They will allow you to sit back and reflect on your company and then apply the principles to it. Create your own Scaled Agile company from your home office! And then challenges your colleagues!
Register using the form on the right hand side 👉
And watch the webinar on-demand as you like.
Key takeaways
What is Pragmatic Scaling?

What are Scaling Agile design principles?
How can you apply these yourself at home?
Speaker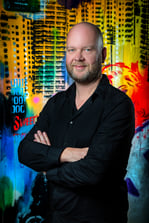 Bart is Business Agility & DevOps Consultant and the customer's partner in achieving business results. He is an expert with more than 27 years of IT and Organization experience. He adds Agile and technical capabilities to the customer organization. Working Agile means deliver value in a focused way and grow continuously. Co-create and win together. He believes that only multidisciplinary teams who are in contact with the customer are able to make the best products.