C-level get-together to discuss Digital Transformation and share insights & experiences.

When: Thursday the 3rd of June, 2021, virtual
Time: 4 PM - 5 PM
What can we learn from the Digital Transformation in the Banking Industry?
Introduction
In the 1970s, banks were at the forefront of automation. When the Internet radically changed customer processes, the expectation was that banks would also seize this opportunity to lead innovation and modernization. Has this expectation been fulfilled? And what does it mean to be a "digital bank"?

Join us on the 3rd of June for an online get-together in which. Alexander Zwart (Rabobank) and David Versteeg (Van Lanschot Kempen) will the discuss digital transformation in finance and share their experiences live from our studio.
Do you wonder why some companies manage to turn their digital journey into a success and others are struggling? Learn from those who excel in today's dynamic world by embracing both innovative technology and a new mindset!
Speakers:
David Versteeg - Chief Digital Officer (CDO) at Van Lanschot Kempen. David is an expert in private banking and wealth management. He will provide insight into Van Lanschot Kempen's choices that transformed the bank into a successful Omnichannel Wealth Manager. An inspiring story in which Digital Transformation plays a significant role.
Alexander Zwart – Head of Digital Transformation and Tribe Lead Digital Platforms at Rabobank.
As Tribe Lead Digital Platform, Alexander is responsible for the Rabo banking app, online banking for consumers and business customers, and Rabobank's public websites. Additionally, he co-leads the bank's global Agile@Scale transformation. During the past couple of years, Alexander has fulfilled several positions within Digital Banking. He was part of a business development team that started an energy company in Belgium and Germany and worked as an advisor for Rabobank's Executive Board. Alexander will share Rabobank's digital transformation journey and provide insight into its approach to scale Agile worldwide.
Both Alexander and David will share how they navigate and manage the impact of COVID-19 as well.
Exclusive Insights
This online Digital Transformation Event is an online peer-to-peer event. Gain exclusive insights into the key learnings of digitization in finance:
Digitization in Banking; the law of the inhibiting lead?
The impact and promise of Fintech
Robotization, AI, and data in banking
How to use Agile principles to change culture and mindset?
For Who?
CEO's, CIO's, CDO's, CMO's, (innovation) directors and (senior) managers.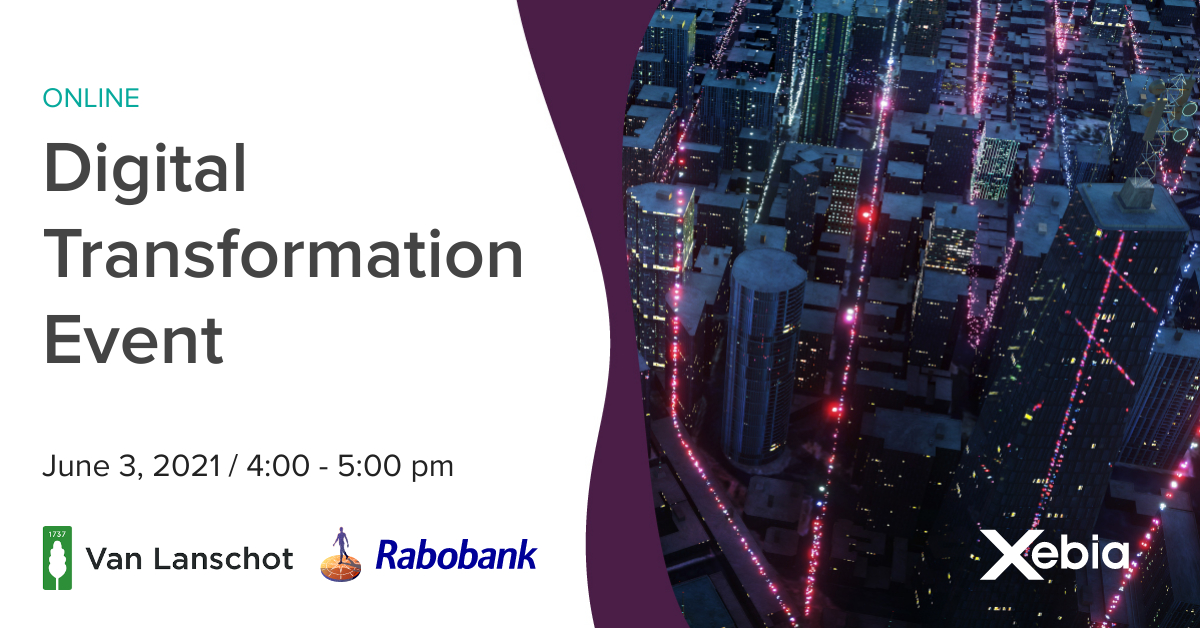 About the online event
Xebia Digital Transformations Events offer experts from the top 250 (Dutch and international) organizations a stage to share their knowledge and experience with peers. CEO's, CIO's, CDO's, CMO's, (innovation) directors and (senior) managers. Expect exclusive insights and do's and don'ts to make your next step a success.

Your hosts are Guido van den Boom, Partner Digital Transformation & Business Agility and Daria Nozhkina, Digital Strategy & Transformation Consultant