Date: Tuesday, April 16th, 2019, 07.30 am
Location: Xebia, Laapersveld 27, 1213VB in Hilversum
Let's have breakfast together. Learn about DevOps success stories and get inspired before your workday starts. Xebia cordially invites you to our DevOps breakfast series.
This breakfast session will focus on Container scheduling platforms: As organizations adopt DevOps, they all face the same requirements in enabling teams to act on their own. More often than not this automatically means that people start talking about containers. The usual suspects such as Kubernetes or Docker Swarm are considered the only solution. However, is this the case? Alternatively, are there other ways to enable teams to both act autonomously while not going for the most technologically complex solution?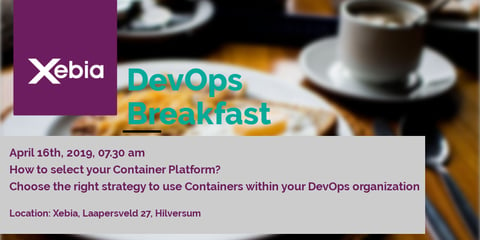 Session:

Join our breakfast session and listen about the available options for container scheduling platforms so you can make an informed decision on what to choose. Sometimes the power lies in the "Keep it simple, stupid" or KISS principle. Rather than going for a full-fledged orchestration platform you can also choose to adopt things at a slower pace and follow a natural path to adopting these orchestration techniques when they become necessary.
During our presentation you will get an insight into the transitioning path and the different levels of deployment autonomy you can achieve. By discussing the pro's and con's of the different levels, you become empowered to make decisions for your organization and determine where you want to start.
Agenda:
07:30 Welcome & start breakfast
08:00 Presentation "

Container scheduling platforms - A requirement for DevOps or nice to have?"

by Eric Nieuwenhuijsen (Xebia)
09.00 Q&A with DevOps experts from Xebia
09:30 Closing remarks and ready to start your working day with new idea's and knowledge
In case of any questions, please feel free to contact jkoene@xebia.com