Crossing an international border by train from or to the Netherlands, you are joining NS International (NSI), the business unit of the Dutch railways responsible for international travel. NSI serves more than 3,300 European destinations with different transport options.
The dedicated IT team of NSI supports Marketing, Commerce, Finance and Operations with many interfaces to different organizations and systems in different countries.
Download this client story and learn how NS International used AWS Cloud technology to speed up the delivery process of newly developed features and facilitate experimental Marketing and growth hacking practices.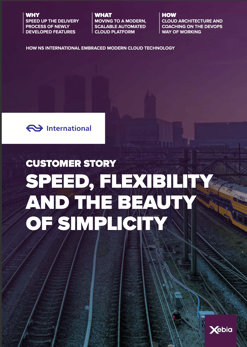 This client story is part of Xebia's knowledge base in Self Service Platform Automation Services.