Date: November 21st, 2019, 07:30-09:30 am
Location: Xebia, Laapersveld 27, 1213VB in Hilversum
Let's have breakfast together. Learn about DevOps success stories and get inspired before your workday starts.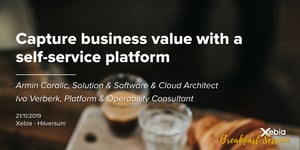 The next session of our DevOps breakfast series will be about Self-service Infrastructure:
Delivering business value should be the main outcome of doing successful software development. Business value can be expressed in many ways, but it is often associated with building features that improve the user experience or delivery of new functionality that satisfies customer needs. Writing code is obviously important, but it is part of a much larger effort to operationalize the software and actually start capturing that value. Chances are that you are spending a lot of time on CI/CD processes, infrastructure management, team structure and quality attributes like availability, scalability, security, etc.

Aa self-service platform acts as a strong catalyst for increased developer productivity. It allows freedom, flexibility, and team autonomy, by providing developers with an easy and low-friction journey from idea to production.
In this session, our experts Armin Coralic and Ivo Verberk will discuss:
the main benefits of an integrated self-service platform

the required elements of a self-service platform and

the principles that govern a successful self-service platform.





Furthermore, we will provide examples on how you can combine those principles with your specific organizational context to perform a successful implementation.
Agenda:

07:30 - 08:00: Welcome & start breakfast
08:00 - 08:45: Why do you need a platform? Which of your problems can it solve?
We will discuss common challenges within software development and how to address these with the DevOps way of working and a self-service platform.
08:45 - 09:00: Demo time: So, how can we bring that to life? Let's get practical and showcase how an actual implementation of a self-service platform can look like.
9:30 Closing remarks and ready to start your working day with new idea's and knowledge
In case of any questions, please feel free to contact aalbrecht@xebia.com