Good software does not come about just like that; by mere coincidence. Inside a streamlined and well-executed software development process, there are many patterns for success. Some of them extend well beyond what is traditionally considered to be the realm of the software developer.
Inside our organization, many of these patterns were applied either consciously or subconsciously. We felt the need to bring these patterns forward from under lock and key into the clear light of day for everyone's awareness.
After months of gathering, slicing, dicing and eventual distilling, we arrived at what we consider to be the 'Essentials', distributed as a pack of flash cards.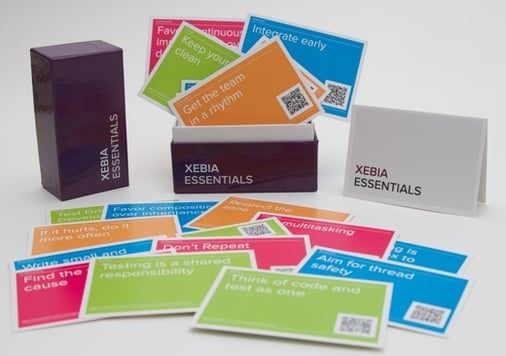 Reviews from other clients
Working on my #blindspots after a while in a project: where could we improve thing further? (using @XebiaAcademy essentials cards) pic.twitter.com/9Ylw18lYpK

— Tim Bourguignon 🇪🇺🇫🇷🇩🇪 (@timothep) July 12, 2018
This is funny. I just used them in a Retro earlier this week, for the first time since bringing them from #p4a 2017. It worked great! pic.twitter.com/D9lIv2Aomx

— Michael Cramer (@dimjon) July 12, 2018
How did you use them?

— Tim Bourguignon 🇪🇺🇫🇷🇩🇪 (@timothep) July 12, 2018
We defined 4 areas:
- Already doing great
- Should improve
- What does that even mean?
- Won't consider this for now

— Michael Cramer (@dimjon) July 12, 2018
Then we discussed and assigned the cards to these areas (1-2-all), voted for the most relevant and decided on improvement measures.

— Michael Cramer (@dimjon) July 12, 2018
Worked well as an outstanding Retro, focusing on more general topics than usual.

— Michael Cramer (@dimjon) July 12, 2018