To finish another exciting day during Dutch Data Science Week, we had a Blockchain in Business Meetup with speakers from Schiphol, Transavia, Ledger Leopard, and Safeguard App!
More videos and social updates will follow on our #DDSW18 playlist for the latest videos and livestreams as part of the Dutch Data Science Week 2018!
Earlier info from Meetup
This meetup is part of Dutch Data Science Week, which takes place from May 25 until June 1. More information: http://www.dutchdatascienceweek.nl

Schiphol (Edwin Platteel) - Transavia (Brit Haarmans)

Together with Schiphol, Transavia experimented with blockchain to develop a solution that makes sure that passengers enjoy their stay at the airport while providing the smoothest departure experience possible.

Zorginstituut - Ledger Leopard (Vikas Pandey)

- Use cases of blockchain in the healthcare sector
- Specific solution, developed with zorginstituut
- Details of the blockchain baby app with different functionalities we developed
- What problems we solved using blockchain
- Benefits to various parties(participants) in the distributed ledger

Safeguard App - Ingmar Vroege
Re-imagining Safety in the Workplace: applying Blockchain and AI to predict and prevent workplace accidents.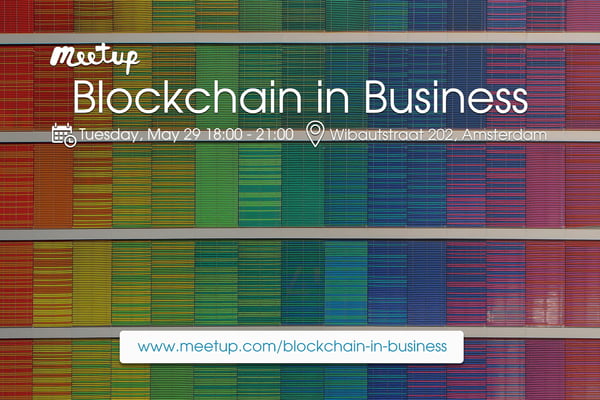 What we're about
In this Meetup we talk about how blockchain can add value to your business. Experienced practitioners and business professionals share their use cases and best-practices on using blockchain in business. You can expect many how-to's and the latest developments about blockchain, all delivered in clear language. Past speakers come from organizations like LegalThings, Rightsshare, NUON, Nationale Nederlanden, and many more. Make sure to follow our Youtube playlist about this Meetup too (https://www.youtube.com/playlist?list=PLpXDzoVNlnNt1fzbKnkvII3DxGh7z_12N).