Join Ram Narasimhan for a Live session on An Introduction to Deep Learning
Date: Wednesday, 7 February 2018
Time: 3 pm - 4 pm IST
Who should attend: Data scientist, Data analyst, Big data professionals, and Software developers.
By joining this webinar, you will learn:
Why is Deep Learning such an important aspect of data science?
What are the core platforms and business applications of Deep Learning?
Basics of Deep learning
Speaker Profile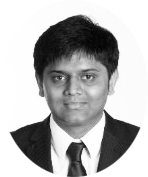 Ram Narasimhan is Practice Lead - Big Data and BI at Xebia. He has guided many organisations in field of Data Science Consulting, Big Data Engineering, BI and Visualization, Artificial Intelligence - NLP, NLG, Deep Learning.