For new starting Scrum Masters, Agile Coaches and Scrum Teams and even the experienced ones, we developed the AGILE NXT toolkit. In the field we see people who are new in Scrum searching for effective ways to facilitate team work, team dynamics, (Scrum) events and continuously improve on that. New Scrum Masters don't know where to start in the huge number of tools, techniques and information on the Internet. Scrum Teams that are more mature and want to self-organize their learning path have the same issue. Agile Coaches use the same structures and practices over and over instead of experimenting.
AGILE NXT toolkit for only € 99,- (excl. transport costs)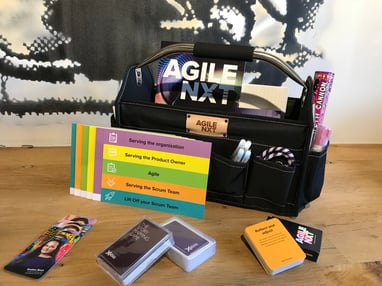 The toolkit is full of inspirations and practical stuff. The best practices, exercises, structures and facilitation techniques from our 35 Agile experts at Xebia for you to improve your skills. A great addition to your current backpack of tools and techniques. If you answer one of these questions with YES this toolkit is for you:
Do you want to know where to start as a beginning Scrum Master or when setting up a new team?
Do you miss tools and techniques to be effective from the start?
Do you want to experiment?
Did your organization ask you to be a Scrum Master and you have no idea where to start with your new team?
Is your current toolkit up for expansion or refreshment?
Do you want a collection of the best practices of the expert Agile Coaches of the Netherlands?
Did you go to a training but still looking for useful, practical information on how to actually do it?
What is in the AGILE NXT Toolkit?
A box full of inspiration
How you can stimulate creativity
The best ideas for teambuilding
Insights on how to best conduct your Scrum Events
Facilitating effective sessions with your team
How to engage smart with stakeholders
Facilitation techniques
Exercises and insights creation
Physical material: Sharpies, sticky notes, team calendar, planning poker cards, Agile Manifesto cards etc.

Coming Soon in 2019!
AGILE NXT Toolkit TRAINING € 700,- (incl. Toolkit, excl. transport costs)

You can order the AGILE NXT Toolkit by itself or you can combine it with the AGILE NXT Toolkit training. This training will take you through all challenges, exercises and structures in the Toolkit. You can experience and experiment with these in a safe environment. With attending the training you also become a part of the AGILE NXT Toolkit community where Xebia gives you a platform to share experiences, challenges done, new ideas, etc.
You get to know other Scrum Masters, Agile Coaches and Development Teams and we will provide a platform to keep in touch after the training. During the training you have the opportunity to dig into the knowledge of some of our Agile experts.