Date: Friday May 10th, 2019
Time: 8.30 - 17.00
Where: Hilversum

Are you frontrunner in improving your companies' performance, make it faster, cheaper, better and be Agile? Prepare yourself today for the challenges of tomorrow and join AGILE NXT Future Friday. Future Friday covers all aspects of "what's next" in developing Agility, from teams to leadership, people to technology, culture to governance, and everything in between. Its scope and perspective range from innovative insights to useful practices that resonates with your current and future Agile state. Presented by the industry thought leaders of improving your organizational performance.
Are you ready to change your tomorrow? Get your ticket today!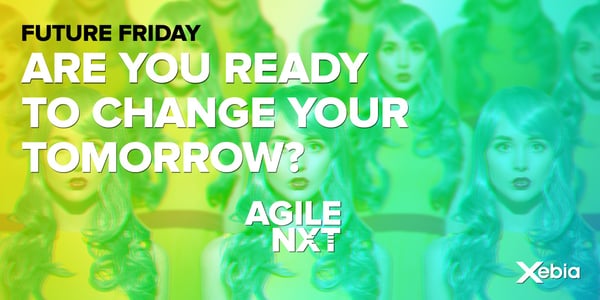 The agenda for upcoming Future Friday:
KEYNOTE: How Agile is Our Human Brain?
Margriet Sitskoorn
Take a trip through the plasticity of your mind and gain insight into how you can express your talents and best accomplish your goals in the age of agility.

Stop Copy-Past Agility, Start Agile Problem Solving
Daniel Burm
Is your agile "copy-paste" or "problem-solving-specific? If you only imitate, you'll never innovate. Learn what it takes to solve your own companies' problems, your way—the agile way.
Structure Your Organization For Tomorrow
Roel Trienekens & Just Meddens
Learn how to confront the real challenges of current work-impacting trends. Gain practical knowledge for your organization's future-fit toolkit.
When Agile Meets Culture ... And Clashes
Ellen Barree
Open your eyes to the "invisible elements" that often undermine transformations. Learn how to make culture change more tangible and sustainable.

Why the Agile "Fixed-Team" Dogma is Wrong
Laïla Noujeh & Laurens Bonnema
Solve poor performance with a shift in perspective on the fixed-team dogma. Discover how to implement dynamic reteaming experiments in your organization.
No worries, you don't have to choose, you will meet all our 7 thoughtleaders. You can expect interactive and mind blowing session.

Schedule
08.00 – 9:00 Registration & Breakfast
09.00 – 10:30 Session 1
10.30 – 12:00 Session 2
12.00 – 13:00 Lunch Break
13.00 – 14:30 Session 3
14.30 – 16:00 Session 4
16.00 – 17:00 Keynote: How Agile is the Human Brain, Margriet Sitskoorn
17.00 – Drinks & Bites