Why attend this webinar?
Join this webinar to learn about the role of Analytics Translator and how she helps organizations to overcome the most common difficulties when building AI solutions. The analytics translator enables the execution of your company's AI strategy by finding the right use cases, liaising between business and data experts, and embedding AI solutions into your organization. This webinar is interesting for IT managers, CTO's, CMO's, Innovation Managers, Product Owners working
in IT, Managers Advanced Analytics, and anyone who needs to develop data science / ML / AI applications.
Key takeaways
The typical responsibilities of an analytics translator.
Key differences between an analytics translator and a typical product owner.
The added value of the analytics translator for AI-driven enterprises
Key elements of a successful way of working to develop AI-solutions
Speaker: Henk Griffioen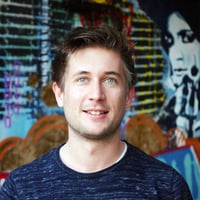 Henk is Lead Data Scientist at GoDataDriven. Henk likes building data products and data teams to deliver value and solve the right problem fast.