You could think of Léon Rodenburg as the software equivalent of the archetypal Renaissance-era explorer seeking new trading routes to China. Certainly, the Dutchman has been instrumental in building a business relationship with the Chinese IT sector for Xebia.
Léon came to Xebia with an unconventional skill set that included software development and a passion for Chinese linguistics. He was looking for a way to combine the two and found a willing backer in Xebia. "I loved the atmosphere, and I felt I'd enjoy working at Xebia, but I was clear I had to be able to do something with China," says the software development consultant. "The team at Xebia told me I'd need to do everything myself because they had no China relationship. Which was kind of awesome, because I got all the freedom I needed, to find opportunities, both in business and in technology, to establish an IT practice focused on China," he grins.
Léon's first moment of success came from a discussion with the Alibaba Group, China's biggest online company. Just under three years later, Xebia is Alibaba's first Benelux partner. The strategic relationship enables international companies to build bridges to customers within the world's most populous country. Rodenburg is an Alibaba Cloud Most Valuable Professional awardee—an honor the cloud computing company has only conferred on a handful of non-Chinese.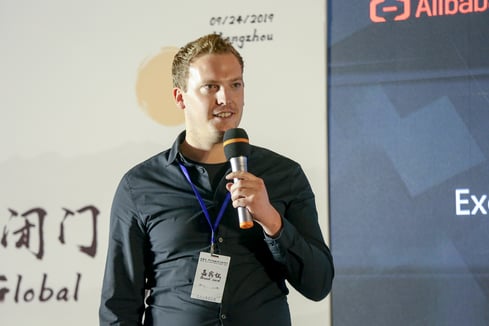 Xebia works with Chinese customers across several fronts, including leading international corporate delegations to the country. However, its principal relationship revolves around the Chinese conglomerate's cloud unit, where it helps companies implement applications and stacks on Alibaba Cloud.
Léon is currently helping a Dutch startup create a B2B application to be able to reach trading partners within China. He explains, "Their current application is hosted in Frankfurt, but Chinese users were experiencing a lot of problems connecting to and interacting with the program. So, they've decided to set up a new instance of the app in China and have asked me to help them do that on Alibaba Cloud."
Putting People First
Some of Léon's success stems from the entrepreneurial skills he learned as a freelance consultant. But he also credits Xebia's autonomous culture for his success with China. "There's just lots of room and no one says you have to do this now, or you have to do that. We're all actually a bunch of entrepreneurial people that are within the same company and everyone has their expertise," he says.
As a company that puts people first, Xebia encourages its associates to discover themselves and what appeals to them. "The whole company is like, all kinds of different people together, all doing cool stuff, stuff they actually like—which means they're enthusiastic about it because no one is forced to pursue a subject that nobody cares about. And in the end, I think if you're into consultancy, then I don't think you're going to find another workplace that is as open and has as many possibilities as we have at Xebia."
As someone with a creative bent of mind, Léon appreciates how two days on the job are never the same. "Sure, there are typical days. On a typical day, I'll go to the client's office and start working on the task set out for that day. But it might be as part of a team, it might be as the boss, or as a team lead overseeing a few teams, or even as a CTO," he explains. Some days, he may focus on software architecture, on others he could be interacting with stakeholders. "It really depends on the projects, whether or not I'm coding a lot or doing more on the presentation or knowledge-sharing side," he adds.
Opportunity to Learn
Every couple of weeks brings the opportunity to further his skills via Xebia Knowledge Exchange (XKE) program. These biweekly learning events are held every alternate Tuesday, and anyone from within the company can attend, either to make a presentation or simply to learn about new concepts.
"The XKE sessions offer a great way to experience what it's like to work at Xebia," he says, "and are perfect for anyone curious about the company's open culture, as well as to pick up a new trick or two."
For anyone already working at Xebia, it's easy enough to tap into new trends and technologies given the Group's broad portfolio of projects extends from software development to digital strategy, security, Agile and beyond. Léon elaborates: "Every niche and every strange technology you can think of, there's probably someone that has done a project with it or has some experience in the field. And you can simply go up and talk to them. Because of that culture, I think it's easy for us to be at the forefront of cutting-edge developments within IT or the cloud or artificial intelligence, for example,"
Léon speaks for many tech professionals when he says staying abreast of new developments is one of the best things about working in the sector: "In the end, the most fun thing to do for someone who's into technology is actually to learn something new—a new skill or a front-line innovation. Because if you keep learning, you'll keep improving, and you can bring that experience to your next project. In some ways, that's also the essence of Xebia."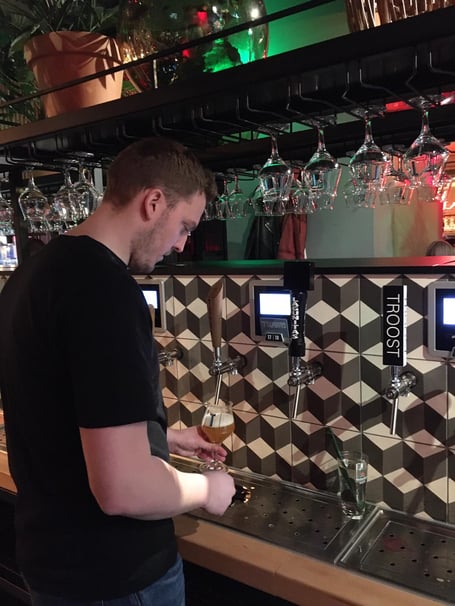 Nowadays Leon likes to brew his own beer in his spare time.