"EventStorming is a great tool for capturing knowledge. It helps participants visualize different perspectives about processes and creates a common understanding of how information grows."
João Rosa - Software Consultant
EventStorming is the most effective tool for initiating a collaborative, deliberate discovery session within an organization. It's effective when a timeline exists, although it's not a silver bullet. It should be combined with other visualization techniques (like Example Mapping or User Story Mapping) for maximum results.
You can discover this, and other reasons by reading the '7 Reasons to Adopt EventStorming'.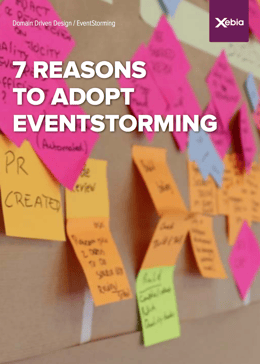 —
Despite all your efforts still struggling to put high-quality software into production whenever you want? Do you lack confidence in your existing setup to not automate it completely?
Find all your answers here

It is not just about forming DevOps teams, working Agile and setting up continuous integration and continuous delivery (CI/CD) pipelines. Get ready to take the final steps. Xebia helps you to grow the necessary confidence throughout your complete software delivery process.